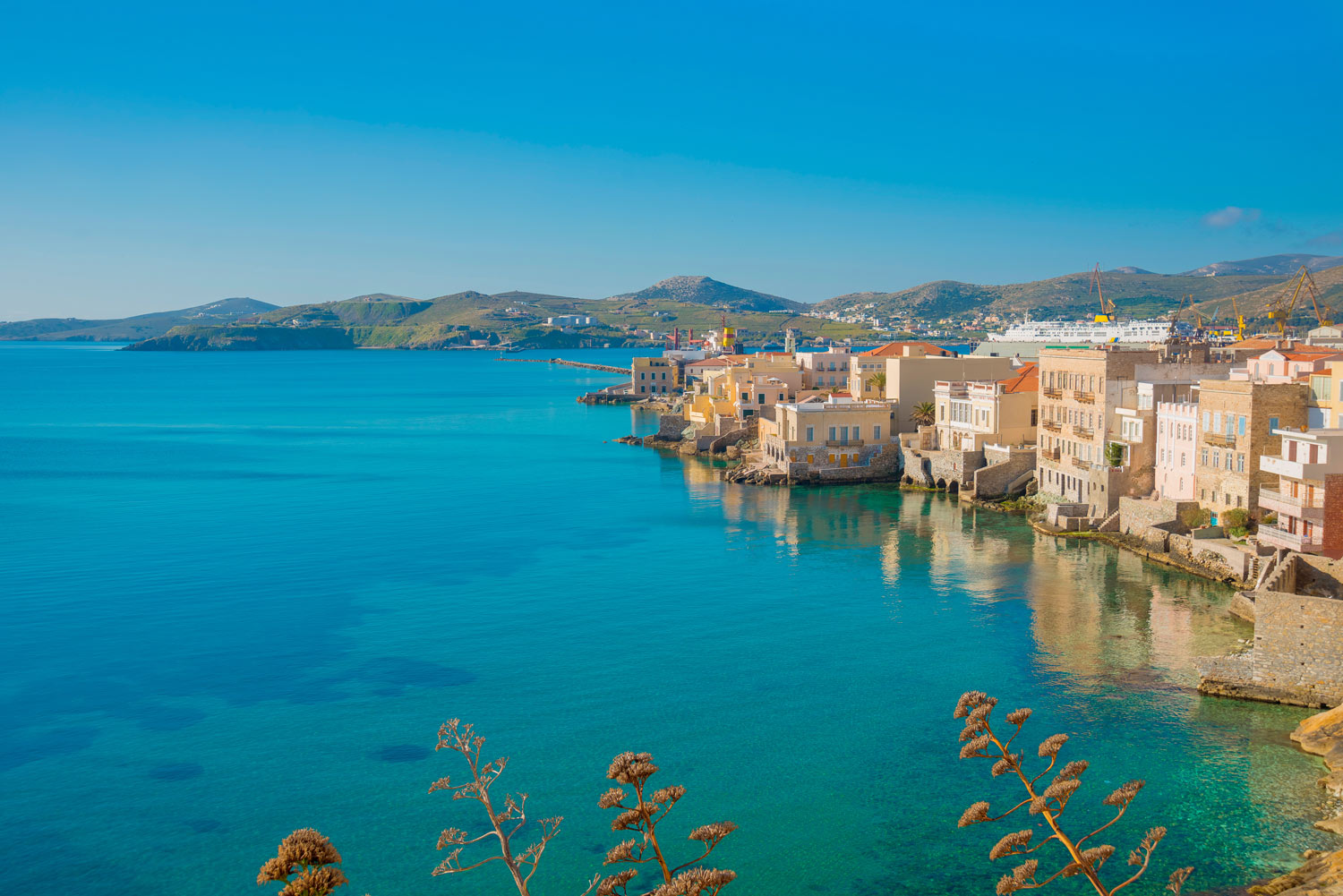 SEE ON MAP
Beautiful and non-touristy Syros used to be one of the most important hubs in the East Mediterranean area connecting Minor Asia to the rest of Europe. The port-town of Hermoupolis, named after the Ancient Greek god of commerce Hermes, bloomed during the 19th century. Merchants and traders, artists and entrepreneurs exchanged cultures, goods and art, making Syros the home of the elite and upper class of that period. The glorious buildings and distinct architecture are a testimony of that time.
The impressive town-hall right in the main square is ringed by various coffee shops and small bars, while a few steps further you will find the Apollo Municipal Theatre (also known as La Piccola Scala), as it is a replica of Scala di Milano. Nowadays Syros still remains the capital of the Cyclades and is popular for its family beaches and quiet evenings, attracting mainly the most sophisticated crowds. Apart from enjoying the various cultural happenings on the island and its interesting family-run eateries, you can also discover its natural beauties like enjoying the sunset from medieval Ano Syra. For a more flashy daytrip, you may also arrange a trip to neighboring cosmopolitan Mykonos.
Geographical location
Cyclades
How to get there
Syros is one of the easier islands in Greece to visit.
By sea: Apart from a regular service to and from Piraeus, ferries from Syros also connect with Tinos, Mykonos, Kythnos, Kea, Amorgos, Naxos, Paros and Santorini islands regularly and Lavrio, Kos, Rhodes, Patmos, Leros, Ikaria, Samos, Fourni, Andros, Astypalea, Folegandros and Donoussa less so.
By air: There is an airport on Syros with daily flights from Athens which take 40 minutes and also some flights from Thessaloniki that take slightly longer. The airport is only 2km from Ermoupolis.
What we love the most
Syros is the administrative capital of the Cyclades making it a lively and lived-in destination all year round. Unarguably, its harbor and town of Hermoupolis are crowning the island and here you will instantly feel a strong intellectual and artistic flair, as well as a sense of grandeur, which derives from the beautiful neoclassical buildings, old mansions and stone-built alleys.